Welcome to the Official Website
Capitol Hill Pride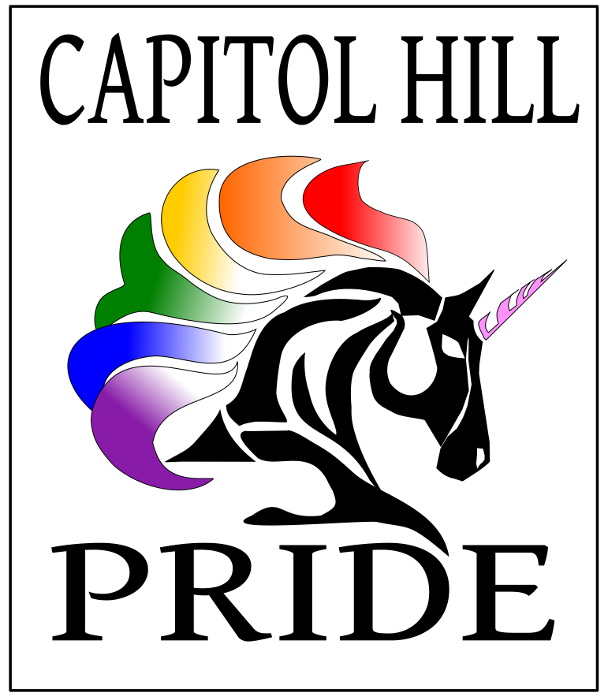 ---
You're Invited!

Capitol Hill Pride Concert
Sat. June 1, 2019
Noon - 10pm

Seattle Central College Campus

A community promoted event celebrating diversity and community pride, remembering
Stonewall on its 50th Anniversary and local history.

You're Invited!
Speakers, Live Music and Artists

Open to everyone, LGBT, straight and anyone of any background.
non-profits, speakers and artists.
Member Interpride.

Come take a bite of Seattle's Capitol Hill!
Activism at its finest!

As the ten year annual event has grown to become the Northwest's largest Pride event and Capitol Hill's largest, we are dedicated to creating awareness of the LGBTQAI community in what is recognized as a Constitutionally protected annual event for Pride weekend.
We also have confidence in the many supporting restaurants, businesses non-profits and artists in promoting the LGBTQAI cause whether it's through their art, business or personal expression and support of the community.
Capitol Hill Pride is announcing the Capitol Hill Pride Guide for Capitol Hill's "Bite of Pride"
thru the month of June - Pride Month.

Join us also for the

Capitol Hill Pride March & Rally

Sat. June 29, 2019
Developing Schedule


12:00 - Welcome
Directors Charlette LeFevre and Philip Lipson




MC Asukaa Jaxx - Intersex Justice Organization. LGBTQAI community Intersex Representative. A well known activist in the Capitol Hill community.






Noon - 12:30 Capitol Hill Doggie Drag Costume Contest
Bring your best to the ninth annual Doggie Drag Costume Contest.
Register with any donation at the Information desk by noon.





Want to Table at the Concert,
advertise in the Capitol Hill Pride Guide or
Participate or Volunteer?
Please
CLICK HERE
for a vendor application
or contact us whether your an artist, non-profit or business supporter.
Space is available but limited so please e-mail:
capitolhillfestival@gmail.com
Be a part of the community event listing whether its to participate in the march or to speak, to provide table information outreach or to volunteer.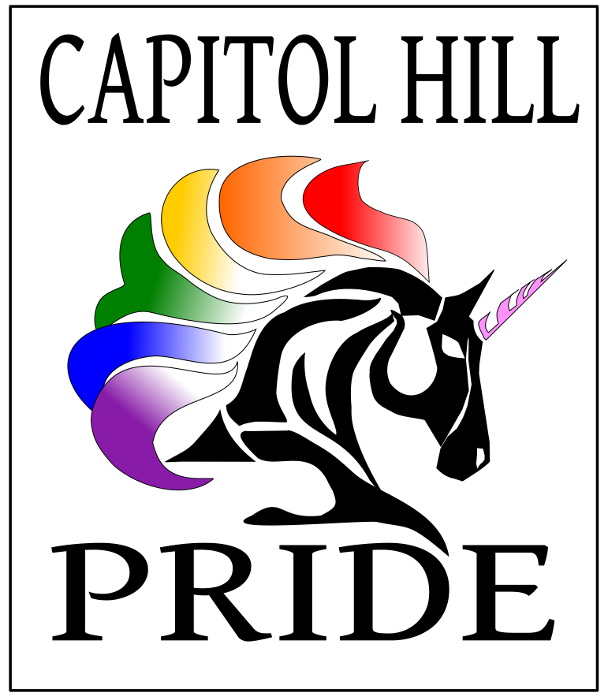 We invite you to hang your Pride flag and post the Capitol Hill Pride unicorn logo on your organization's door and website as a show of support.
capitolhillfestival@gmail.com
---
Thank You to our Sponsors!
BBOA, Northwest Museum of Legends and Lore


---
Thank You for Standing Strong!
LGBTQAI non-profits, Capitol Hill Businesses, BBOA - Broadway Business Owners Association, Volunteers, and Supporters will present the ninth annual Capitol Hill Pride event

Member of
Connect to the Capitol Hill Pride Festival on Facebook

Capitol Hill Pride Festival in Seattle | Promote Your Page Too

MORE Photos from Past Years 2014...
Stonewall, Never Forget

Photo from The New York Daily News,

Sunday, June 29, 1969 The

Stonewall riots

were a historical turning point in LGBT rights. Often compared to the civil rights turning point of Rosa Parks, the riots took place on June 28, 1969, at the

Stonewall Inn

in New York City

when gays and youth stood up against harassing police raids and arrests for being gay which were common at the time.



Legend has it that the raid was started by a simple penny being thrown at a police officer.





Today, Pride marches and parades are held around the world at the end of June commemorating the anniversary of the riots. Communities such as Capitol Hill in Seattle have become neighborhoods where bars, restaurants and businesses have become safe places for gays and lesbians to be open about their sexual orientation

without fear of being arrested or harassed.



In modern times ongoing inequality, basic human rights and international persecution underlines the need for persons and businesses to demonstrate their support for the LGBT community and today what has become known as Pride.



Connect to the Capitol Hill Pride Festival on Facebook


Click translator to view this website in another language and share with your friends
around the world!
Safety Announcement
Following protective Measures Guide for the U.S. Outdoor Venues, the organizers of the Capitol Hill Pride Festival will be coordinating
communicating, operating, training and establishing a detailed safety plan for its event.
We ask business owners and attendees to watch for strong suspicious activity and to help protect your community festival.
Unauthorized sales and soliciting will not be allowed inside festival area.

Information, Announcement and Signage

"For your safety, please do not bring in backpacks and large bags. If you see something, say something"
Any strong suspicious activity observed or perceived should be reported immediately to 9-1-1 and then the directors.
Issues or concerns should be immediate relayed to:
Event Directors:
Charlette 206-523-6348, Philip Lipson 206-465-9601

We want to assure that every step is taken to assure the

safety

of businesses and attendees during one
of

Capitol Hill's largest events so we can celebrate this social justice equality festival
Contact Information:
Capitolhillfestival@gmail.com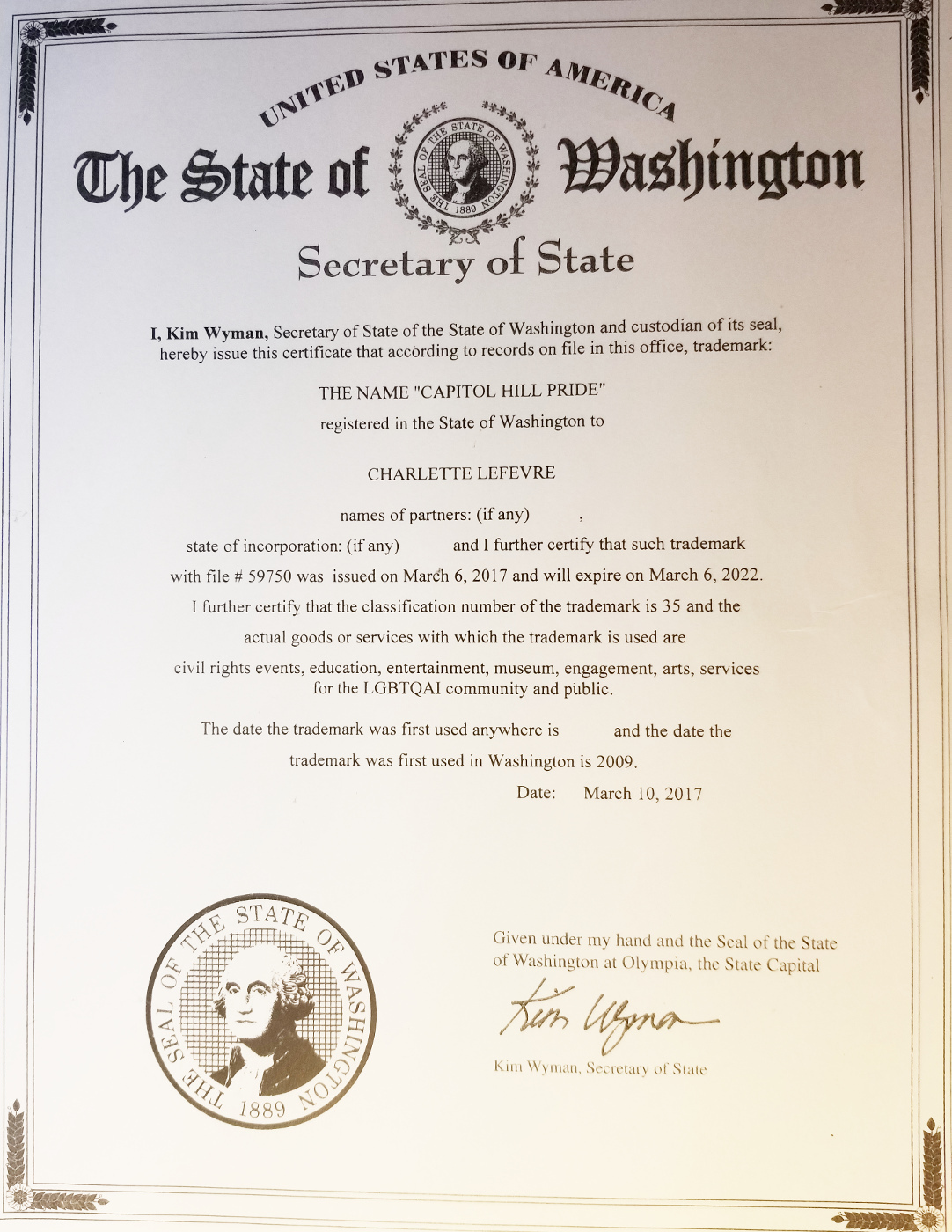 Capitol Hill Pride Festival in Seattle | Promote Your Page Too

MORE Photos
from Past Years 2014...
CLICK HERE
for Capitol Hill Pride Festival Report
Budget on file for 2010 festival with Seattle Dept. of Neighborhoods.

CLICK HERE
for
Sponsorship Information
and Levels
THANK YOU!
Copyright © 2012-2019 Capitol Hill Pride. All rights reserved.
The name "Capitol Hill Pride", "Capitol Hill Pride Festival" is a registered
trademark
and
tradename
within the State of Washington.
The name "Pride Asia" is a registered
trademark
and
tradename
within the State of Washington.
No persons or organization are authorized to use the name, logo or to solicite on behalf of the events without explicit, prior authorization in writing.