Welcome to the Official


Capitol Hill Pride Festival

Website
The Northwest Museum of Legends and Lore - Organizers and Fiscal Agent of the Festival,
along with Broadway Businesses, LGBT organizations Sponsors and Supporters
are preparing for the six annual
Capitol Hill Pride Festival 2014
on Broadway.
The largest Pride Street Festival in the Northwest! Join us
Sat. June 28, 2014 Festival
11am-10pm
A community festival celebrating diversity and community pride, remembering Stonewall and local history.
The festival is open to everyone, LGBT, straight and anyone of any background.
Live local Music, Food and Entertainment with over 100 booths of restaurants
non-profits, businesses and artists.
Come take a bite of Seattle's Capitol Hill!
Activism at its finest!
Click translator to view this website in another language and share with your friends
around the world!
Connect to us on Facebook
Capitol Hill Pride Festival in Seattle | Promote Your Page Too

Booths and Program Ad Space now Available for
Capitol Hill Pride Festival 2014!
Booth space is expected to sell out early for 2014 so
Reserve soon for space availabilty

Click HERE for 2014 PDF of Booth and Ad Rates and Application
CLICK HERE for Sponsorship Information and Levels
E-mail for inquiries on website ads

Call Philip Lipson at:
206-465-9601


10 x 10 Booth (Space only, Vendor is responsible for their tables/chairs/canopy)
Final deadline is June 15
Get your Program Ads in before May 1st, Final deadline is May 15th


RATES


Nonprofits:

$100

Broadway Businesses:

$150

w/

alcohol service:

$200

General:

$250

Festival Program Ad:

$100 2"x3" ad

, deadline May 1st

To book booth spaces - e-mail information to: capitolhillfestival@gmail.com
Questions? Call: Philip Lipson at 206-465-9601 or Charlette LeFevre 206-523-6348

2013 Vendor Statistics
42 Broadway Business 9 Capitol Hill 25 Seattle 29 Non-profits
17 Broadway business Food 2 Seattle food 3 National business
The Capitol Hill Pride Festival is proud to register more local businesses and
non-profits than any other Pride festival in the Northwest!

Visitor attendance in 2009 was 5,000. In 2010 it was 15,000 and in 2011 30,000
Attendance for 2012 and 2013 estimated at 25-30,000 throughout the day. Attendance for 2014 is est. over 35,000

Map as of April 23, 2014
Spaces subject to change until finalized June 15th
Click on Map for PDF Larger Image
Click on Map for PDF Larger Image
2014 Capitol Hill Pride Festival Brought to you by Sponsors and Supporters:

Offical Bank Sponsor of the 2013 Capitol Hill Pride Festival



Letter from the Organizers
Thank you all for a wonderful event!
Pride History has been made!

For the first time in Northwest Pride History the US Navy made an appearance in uniform!

|
Volunteer Robin watches as the Rainbow City Band plays
in front of the Navy making a
historical first appearance at the Capitol Hill Pride Festival.



Doggie Drag Contest winners with judges.

Best in Show for 2013 is Barita - the pink attired mohawk pooch in the middle.

Judges Jeff Hedgepeth of the Seattle Pride Foundation, Joey Reite

r of the Seattle Humane Society and Count Kody.

Thank you to Jocelyn Shope of the Seattle Humane Society for hosting and MCing! More photos below!
"Same Love" singer Mary Lambert makes a surprise appearance!








Mary Lambert joins in on the Sing Along to her own song.
"Same Love" made number one in Australia and has become a strong song for the LGBT community





Mary Lambert shared her experiences and spoken word. She encourages everyone to "Hold hands"!




Bryn King introduces Mary Lambert, singer and co-writer of
"Same Love"

Takeshia, Bryn King and Ready Ron

Takeshia Seward joins Mary Lambert in the
chorus of "Same Love"

Sarey Savy performs on the main stage.
Of Cambodian background, Sarey is an openly gay singer and actor at age 17 and
is considered one of Seattle's top up and coming artists.





Sarey's track "Hard To Say Goodbye" was #2 on "The Top 10 Most Played Songs" for 2 whole years (2010-2012). He is often described as "Seattle's Hottest Recording Artist" from notable sources like Yahoo News, SFGate, NY Times Union and many more media outlets. To date, Sarey is the youngest artist to be a finalist in Anthem IMF's national and international singing competition for the West Coast region.

DJ John Judge at the Main Stage

Performers at the La Cocina Santiago stage

Dennis Saxman who was key in starting the Capitol Hill Pride Festival
checks out the main stage (performer Bryn King in background)

A couple enjoy the Wells Fargo Coach.
Wells Fargo was the official bank for the 2013 Capitol Hill Pride Festival

Even the birds were enjoying Pride
Volunteer David with Napoleon
Thanks to DJ Kenneth "Double "O" Soul" Hylbak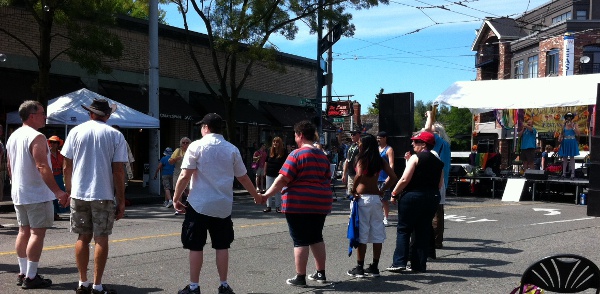 Puddletown Squares performs

Kathleen Fitzgerald of Phoenix won the Capitol Hill Pride Festival Gift Basket
AND MORE PHOTOS COMING!
Safety Announcement
Following protective Measures Guide for the U.S. Outdoor Venues, the organizers of the Capitol Hill Pride Festival will be coordinating
communicating, operating, training and establishing a detailed safety plan for this event.
We ask business owners and attendees to watch for strong suspicious activity and to help protect your community festival.

Information, Announcement and Signage
Large concealed trash cans will be moved to the side streets.
Signs will be placed at entrances of Festival and at information booth
"For your safety, please do not bring in backpacks and large bags. If you see something, say something"
Any strong suspicious activity observed or perceived should be reported immediately to 9-1-1 and then the directors.
Issues or concerns should be immediate relayed to:
Event Directors:
Charlette 206-523-6348, Philip Lipson 206-465-9061

We want to assure that every step is taken to assure the safety of businesses and attendees during one
of Capitol Hill's largest events so we can celebrate this social justice equality festival
Doggie Drag Costume Contest!
The Seattle Westminster of Pride!
Sign your dog up at Seattle Humane Society booth near the Main Stage at the
Capitol Hill Pride Festival

$5 sugg. donation
to benefit Seattle Humane Society Pet Project


Doggie Parade 12:30pm-1pm at the Main Stage
between Roy and Mercer St.
Five Best in Category and of the five, one Best in Show Winner
will be chosen announced right after the judging!
Safely and responsibly dress your dog!



Barita takes Best in Show for the 2013 Doggie Drag Costume Contest!
Photos courtesy of Jennifer Durham.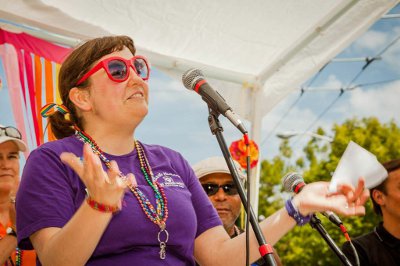 Jocelyn Shope of the Seattle Humane Society MC's the Doggie Drag Costume Contest


Contestants line up including the Wells Fargo Dog.
More photos coming soon!
Much thanks in 2912 to Hostess Rebecca Murray and MC Julie Forbes, Andrea Rouleau of arouleaudesign.com
for the design and banner and Colin Miller and Judge Jeffrey Hedgepeth for the platform


Winner of the 2009
Doggie Drag Costume Contest!

.....

Akasha -

Pomeranian

owned by Christina Thomas.



Photo by Celine LeFevre

Winner of the 2010
Doggie Drag Costume Contest!

Beatrice
Congratulations! Photo by Jake Varga.
Winner of the 2011
Doggie Drag Costume Contest!

Brooklyn and Jersey
Photo by Jake Varga.
Winner of the 20012
Doggie Drag Costume Contest!



Paige aka 'Poodle Pride'
Owner Rebecca Roase

Videos of the Doggie Drag Costume Contests
Click on windows
View Rebecca Murray's Video of the 2011 and 2012 Doggie Drag Costume Contest!
http://youtu.be/R5wHrrpzN1A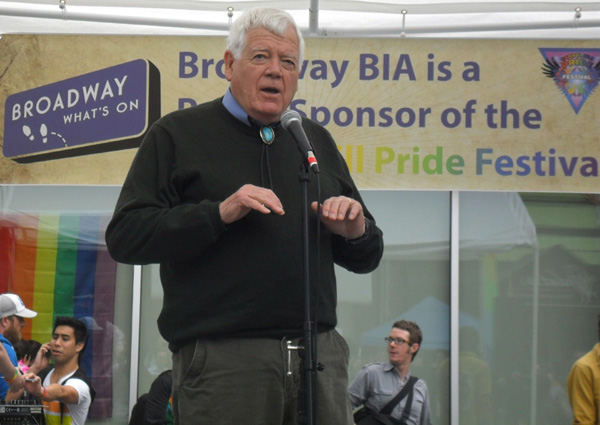 Judges for the 2011 and 2012 Doggie Drag Costume Contest
Jeff Hedgepeth of Seattle Pride Foundation, Julie Forbes of dogtalkshow.com, Amy Castaneda of Seattle Humane Society, Tara Champion of Mudbay, Count Cody Tuwaletstiwa of CountKody.com Entertainment Design
Congressman Jim McDermott awarded the trophies.


Pet Project - Helping Clients with AIDS
Pet Project, an offshoot of the Pet Food Bank, provides services to individuals disabled by AIDS.
Pet Project matches volunteers one-on-one with clients, handling most of their pet care needs on a monthly basis, and enables clients to keep their pets while spending their limited resources on food and other living expenses for themselves. All services and supplies are donated or purchased with donated funds. Individuals disabled by AIDS should contact Pet Project at (425) 649-7566 to be considered for Pet Project services.
Pet Project is funded in part with a grant from the Pride Foundation.
Judges for Capitol Hill Doggie Drag Costume Contest 2013




Jocelyn Shope






Jeffrey Hedgepeth - Seattle Pride Foundation

Count Kody Tuwaletstiwa

Entertaining and Event Stylist

CountKody.com

A Capitol Hill resident and business owner, Count Kody¹s passion is Entertainment Design and Event Planning.











Click on Video above to watch.
Massive Monkees performs at the 2010 Capitol Hill Pride Festival demonstrating their Internationally award winning style.
One of their best street performances as the stage was too small, the group performed for the crowd on the street.


---
Contact Information:

Capitol Hill Pride Festival Organizers
Charlette LeFevre - Festival and Entertainment Development
Philip Lipson - Booth and Volunteer Coordination
The Northwest Museum of Legends and Lore and its Directors are the fiscal agents and organizers of theCapitol Hill Pride Festival.
The museum as a federally recognized 501(c)3 non-profit
supporting humanities and has been scheduling events in Seattle since 1998 including events on Capitol Hill, Seattle Center and Volunteer Park.

Festival Development and Media Inquiries contact:
Charlette LeFevre
capitolhillfestival@gmail.com
Please place Capitol Hill Pride Festival in subject line.
206-523-6348
General Booth Information and Volunteer Coodinator
Philip Lipson
capitolhillfestival@gmail.com
Please place Booth or Volunteer in subject line.
capitolhillfestival@gmail.com
206-465-9601
Who We Are in Supporting the Humanities

The Northwest Museum of Legends and Lore is a 501(c) 3 educational non-profit supporting the humanities and established its first six years on Capitol Hill and is sponsored in part by the Raynier Foundation founded by museum supporter James W. Ray - a Capitol Hill Gay Philanthropist who supported the Humanities and created the Raynier Foundation and namesake of the James W. Ray Orion Center Youth Center for homeless youth.
The museum has scheduled events in the Northwest for the past fourteen years hosting many authors and lectures and cultural arts groups including conferences at Seattle Center and most recently the Seattle Faerie Festival. The museum still conducts the Capitol Hill Historical Ghost Tour with an extensive knowlege of the area and history highlighting the famous legends of Capitol Hill such as Bruce Lee, Kurt Cobain, Jimi Henrix, Frances Farmer and historical figures such as Bertha Knight Landes- Seattle's first woman Mayor, Roy Olmstead and many others.
Now shifting to online, the museum remains active with the community and the Broadway Business Owners Association (BBOA) and has established the first Pride Asia at Hing Hay park in the International District. Occassionally, the museum can be seen on current Travel Channel shows such as "Mysteries at the Museum" and the Discovery Channel.
Festival History
Director Charlette LeFevre as elected Vice-President of the Capitol Hill Community Council in 2008 and Chair of the Arts and Events Committee ran on a platform of establishing LGBT events and organized the first Capitol Hill Pride Festival in 2009 as a two block festival. That year the museum became the fiscal agent and organizers for the festival as the Community Council lacked a business license and even though approved by a community vote opposed the start fearing parking meter fees. Despite obstacles, its first year, the festival drew 5,000 in attendance and in 2010 and 2011 the festival became a five block festival drawing an estimate of 30,000 throughout the day.
The event has become the largest single day event for Capitol Hill and Seattle's and the Northwest's largest Pride Street festival.
The festival Directors are committed to keeping the festival a grass roots social justice community festival on Capitol Hill as a fiscally responsible agent and stewardship and showcasing new and emerging artist on the festival stages as well as furthering the recognition of the Art of Drag as a cultural art form.
New for 2013:
The festival is the new site of the Rainbow Women's Health Fair in its 15th year and for the first time the Navy and SPD will be boothing
as well as site of the ongoing Julia's Block Party and the LaCocina Stage.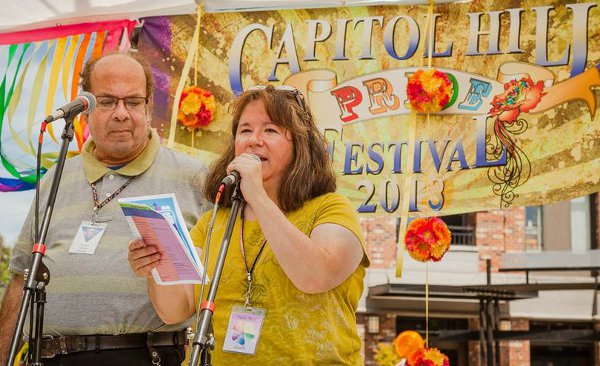 Directors, Philip Lipson and Charlette LeFevre 2013


Charlette LeFevre - is current Director of the Northwest Museum of Legend and Lore since 2004.
Combining science and events, Charlette shares a social justice interest in her activities and writings. Charlette has a BA in Research and Design from Wright State University.
Past positions: 2008 Capitol Hill Community Council VP and currently writes for the Seattle PI Capitol Hill Community Blog under Charlette Report.
Accomplishments: Saving four large trees on Capitol Hill's Broadway and helping establish the Seattle city ordianance that bans the display of human remains without the deceased's consent.

Philip Lipson - Librarian has a Master's degree in Library Science from Wayne State University in Detroit and has had experience in both public and academic libraries. Co-Director of the museum since 2004, Philip Lipson is writing a book on the Air Force's first military plane crash in Kelso and is Booth Director for the Capitol Hill Pride Festival. Philip Lipson has worked for the IRS and has helped organized the budgets for many conferences. In 1980 Philip ran for Sheriff of Wayne County, Michigan, Libertarian Party. Lucky for the library he lost. His slogan was "Behave Yourself", a motto he still lives by today - or so he says.
Also Check out Pride Asia 2014
Hing Hay Park, Chinatown/International District
Capitol Hill Pride Festival in Seattle | Promote Your Page Too

CLICK HERE
for
Expenses / Financial Statement
from past Capitol Hill Pride Festivals
Budget on file for 2010 festival with Seattle Dept. of Neighborhoods.

CLICK HERE
for
Sponsorship Information
and Levels

THANK YOU!
Copyright © 2012-2014 Northwest Museum of Legends and Lore. All rights reserved.
The name "Capitol Hill Pride Festival" is a registered
trademark
and
tradename
of the Northwest Museum of Legends and Lore within the State of Washington.
The name "Pride Asia" is a registered
trademark
and
tradename
of the Northwest Museum of Legends and Lore within the State of Washington.
No persons or organization are authorized to use the name, logo or to solicite on behalf of the events without explicit, prior authorization in writing from
the Northwest Museum of Legends and Lore.